Foreign investment worth $26bn pushing US shale industry forward
Since 2008, 21 international joint ventures totaling $26 billion are playing a significant role in the US shale oil and gas boom, according to recent analysis from the US Energy Information Association (EIA).
A recent $1.7 billion joint venture involving Chinese firm Sinochem in the West Texas Wolfcamp Shale play highlights a the trend of increasing foreign interest in US shale.
Here are some key stats and facts from an EIA report today:
Total US shale investment reached $133.7 billion between 2008 and 2012, part of 73 deals.
Joint ventures by foreign companies accounted for 20% of these investments.
Foreign investors in joint ventures pay cash upfront and commit to cover the cost of drilling extra wells within an agreed-upon time frame, usually between 2 to 10 years.
Most of the recent joint venture deals with foreign companies shifted from the dry natural gas plays to more liquids-rich areas.
All shale plays contain some liquids, but those with a higher liquid-to-gas ratio are more attractive because of the higher value of hydrocarbons that have crude oil and petroleum liquids in addition to natural gas.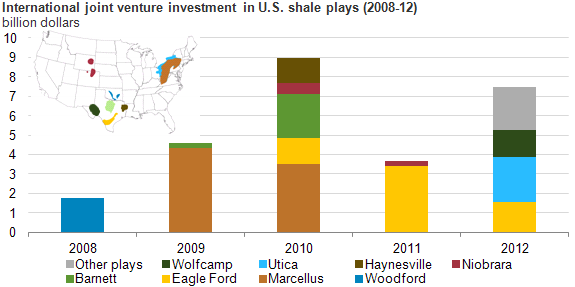 Photo credit and source: the US Energy Information Association