On Friday, Chilean President Sebastian Pinera tapped executive Juan Benavides to be chairman of the state-owned company. Earlier this month, he appointed Hernan de Solminihac and Patricio Briones as directors, replacing Dante Contreras and Laura Albornoz, then the only woman on the nine-member board. Chile is the biggest copper-mining nation.
Gender diversity is one of Codelco's strategic objectives, according to its annual report. But the company has no women in top management, including vice presidents or mine managers. Women make up just 5.4 percent of the company's senior administrators and 9.5 percent of its total workforce. To be sure, that last figure is higher than the average in Chilean mines.
By comparison, BHP Billiton Ltd. has three women on its board, Anglo American Plc and Antofagasta Plc each have two and Freeport-McMoRan Inc. has one.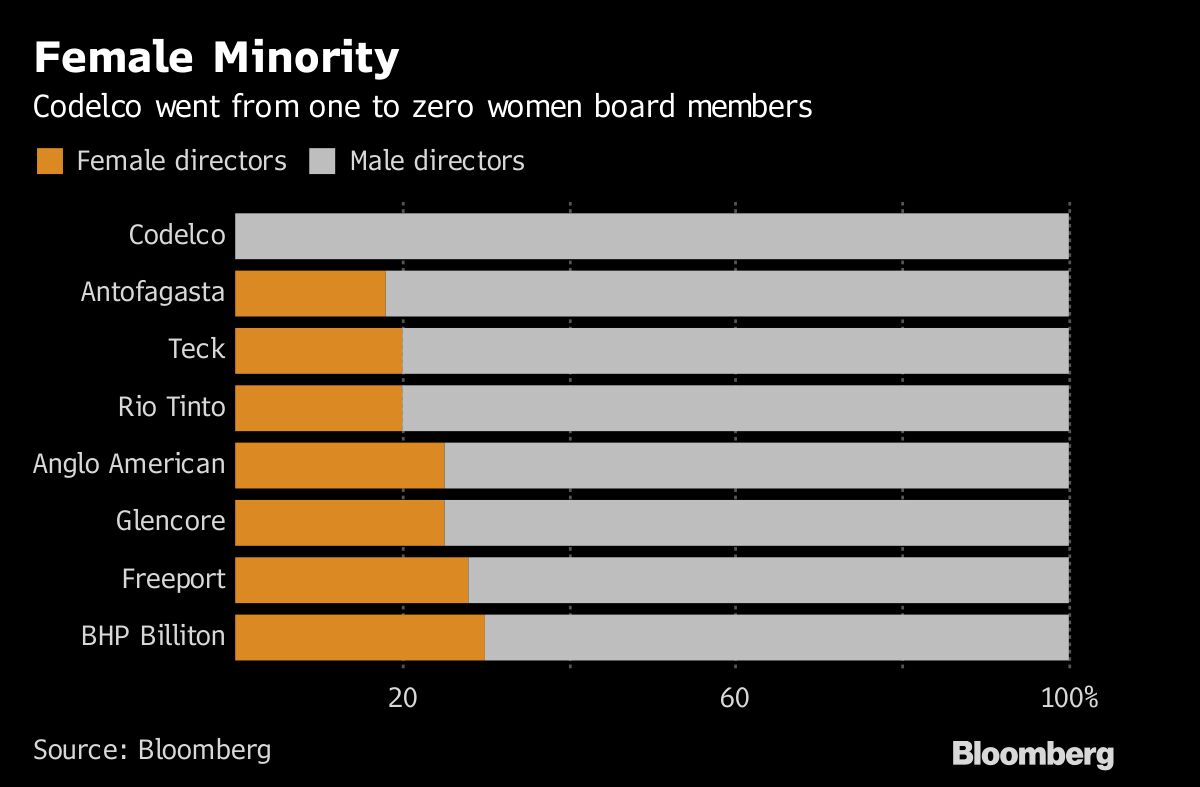 When asked about the lack of women on Codelco's board, the mining ministry referred to previous comments by Mining Minister Baldo Prokurica: "We are fulfilling the commitment of appointing the best people to state-owned companies."
The presence of women in Chilean mines has increased slowly in recent years, from 7.1 percent in 2012 to 7.9 percent last year, according to the Mining Council. This compares with about 12 percent in Australia and 20 percent in Canada. Most mining companies have put in place initiatives to increase that number. BHP has a global target of 50 percent female workforce by 2025, while Antofagasta recently appointed female directors to the boards of all of its operations.
Women agenda
Pinera filled the final Codelco board position two days after presenting the government's Womens' Agenda, a set of measures to improve gender equality amid a series of feminist demonstrations across Chile. The President vowed to reform the constitution to ensure equality, and to pass a bill to punish gender violence for non-married couples, which at the moment isn't regulated.
"The time has come to assume our history and our reality, with its lights and shadows," Pinera said Wednesday. "We haven't been fair, we have all made mistakes."
Women make up just under a third of Pinera's cabinet. In April, the President's proposal for an all-male board at Chile's state television channel sparked public outcry. He was forced to rectify that and two of eight directors at Television Nacional are now female.
(Written by Laura Millan Lombrana)