In an ideal world, the company would have an asset in Nevada's Carlin Trend. "If you're an Americas-based gold company, you should be there. Barrick and Newmont are there and we should be there," he said in an interview in Toronto, adding he'd also like to acquire something in Peru. "Those are the two holes in our portfolio geopolitically I'd love to be able to fill in due course."
Barrick Gold Corp. and Newmont Mining Corp., the two largest producers of the precious metal, both have significant assets in Nevada and mines in Peru.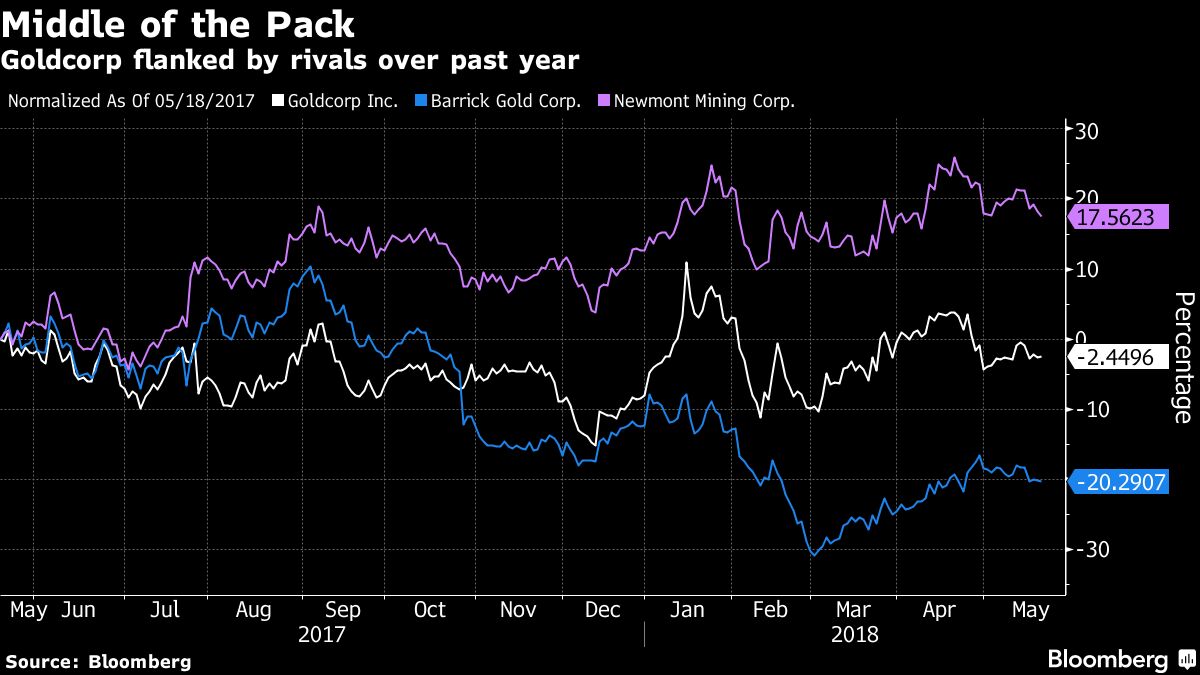 Finding the right assets in those locations could take five to 10 years, and would likely be funded by selling stakes in less attractive junior assets, Garofalo said. "Now that we have this $250 million portfolio of juniors, our grassroots exploration becomes self funding because if we find something we want to invest in, something else gets sold at the bottom."
But for now, Vancouver-based Goldcorp is happy with its portfolio, which does include a 10 percent stake in Nevada explorer Gold Standard Ventures Corp. It's focused on boosting production to 3 million to 4 million ounces a year by 2021, while slashing costs. By 2020, it expects to bring net debt to zero.
That will allow capital spending to ramp up significantly. Between 2020 and 2025, Garofalo expects "billions of dollars of expenditure" with the aim of developing three key projects: its Norte Abierto joint venture with Barrick, its NuevaUnion venture with Teck Resources Ltd., and its wholly-owned Century project. The first two are located in the Atacama Region of Chile and the third in Ontario, Canada. Pre-feasibility work has been done on NuevaUnion and Century while the "massive" Norte Abierto deposit is still at the concept stage.
Using free-cash flow to fund that development will take priority over increasing the dividend, he said.
"Our focus right now is on debt reduction, growth, and in the fullness of time we can revisit our dividend as we get through the growth phase," Garofalo said. The company doesn't have any share buyback plans either. "What we're trying to do is distinguish ourselves as the growth vehicle in a sector that's still shrinking."
(Written by Danielle Bochove)