Soc. Quimica & Minera de Chile SA sits on the world's richest deposit of lithium. It already produces more than 20 percent of the global supply and is about to produce a whole lot more. SQM will at least double and could eventually quadruple lithium capacity, thanks to recent agreements between the company and the Chilean government. Ramping up production of the mineral, once mined mostly as the main ingredient in anti-schizophrenia drugs, will help meet seemingly insatiable demand from electric-car makers.
"There is a legitimate concern on the side of battery manufacturers about long-term availability of supply," said Daniel Jimenez, an SQM vice president who recently estimated that the industry will require a capital investment of $10 billion to $12 billion in the next decade to meet demand.
The green light to mine vastly more lithium, combined with pending changes in its ownership structure, has suddenly put SQM in the sights of several global mining companies, including London-based giant Rio Tinto Group. Among the most aggressive bidders is China's Tianqi Lithium Corp., which has offered to buy SQM shares at a 20 percent premium, Eduardo Bitran, the former head of government development agency Corfo, said earlier this year.
"Tianqi owning the stake would be another step towards overall Chinese consolidation of the lithium industry," Chris Berry, a New York-based energy-metals analyst and founder of House Mountain Partners LLC., said in an email.
A Tianqi spokesperson declined to comment.
Christopher Perrella, a Bloomberg Intelligence analyst, says that a Chinese move to control SQM makes sense. "The Chinese view electric vehicles as a key technological focus," he said."Most of the world's batteries are made in China and access to lithium would be of strategic interest."
Lithium prices have reached historic highs on the strength of growing EV production, and demand is expected to rise about 12 percent a year during the next two decades, according to Santiago-based lithium consultant SignumBOX.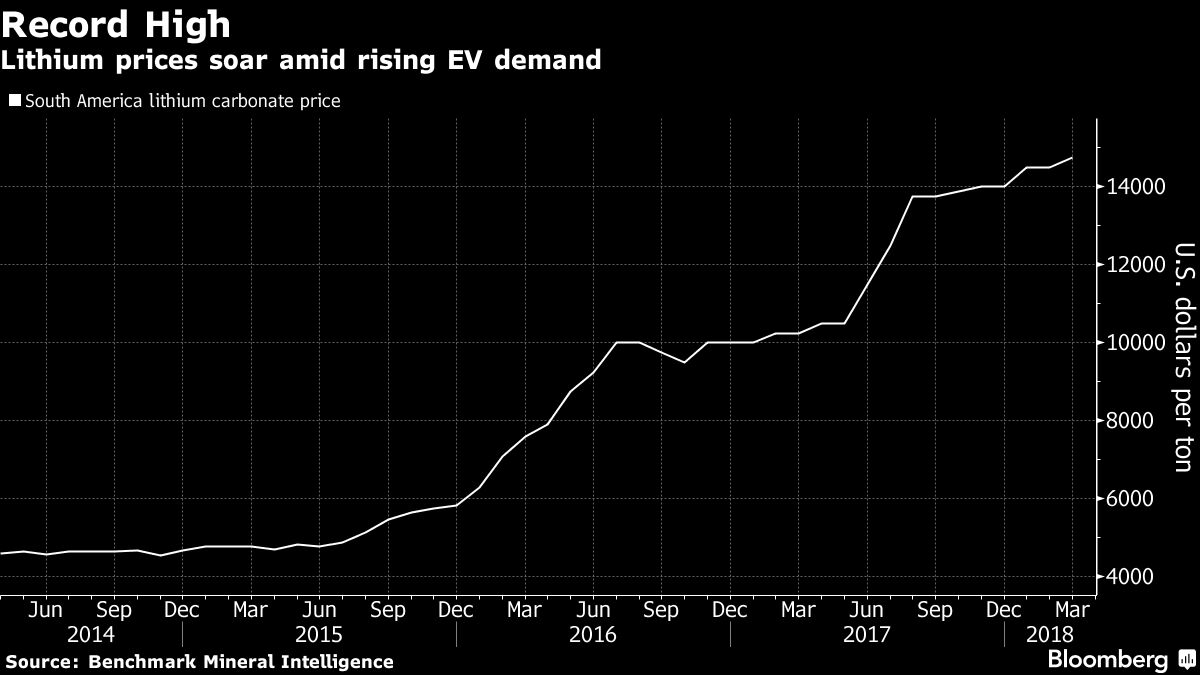 In Chile, where lithium is considered a strategic mineral, SQM needed authorization from the government to step up production. As part of the deal, Corfo demanded that Julio Ponce, a former son-in-law of the late military dictator Augusto Pinochet, relinquish his three-decades long control over the company.
Ponce became the chairman in 1987. In 2014, he was fined about $70 million by Chile's securities regulator for illegal trading in shares of the holding companies he uses to control SQM. Chief Executive Officer Patricio Contesse left a year later following revelations of his involvement in illegal financing of political parties, still under investigation by Chilean courts.
Ponce relinquishing control coincides with another large shift in company ownership. SQM shareholder Nutrien Ltd. has recently said it intends to sell its 32 percent stake, worth about $4.7 billion. Nutrien is the world's top crop-nutrient supplier, and it agreed to divest its interest in SQM last year to conform to regulators in India following its merger with Agrium Inc., a top global fertilizer producer. (Though Nutrien and Agrium are based in Canada, the deal needed the blessing of regulators in India, one of the company's largest markets. And Nutrien will need to sell its stake before mid-2019.)
Chinese acquisitions
Nutrien's stake won't buy direct control of the company, but it could be a first step. The shares will immediately give the holder the right to three of eight seats on the board. That could increase to four, according to Bitran, if the shares were divided into two separate blocks and the two buyers formed an alliance.
Bitran, who stepped down from his job in March as part of the transition to a new administration, filed a request on his last day with Chile's antitrust authority — the National Economic Prosecutor– asking it to block potential acquisitions by Tianqi or any other Chinese-owned companies. Purchasing even a third of SQM would give Chinese buyers favorable conditions, artificially distorting supply and prices, the petition said.
SQM and Tianqi combined would "have influence" over about 70 percent of the world's lithium market, according to the petition's estimates. Tianqi also partners with Albemarle Corp. in the Talison Lithium joint venture that includes the giant Greenbushes mine in Australia. Albemarle also mines lithium in Chile.
"The lithium market has always been and will remain an oligopoly," Berry said.
(Written by Laura Millan Lombrana)