AngloGold plans to sell last South Africa mine as era closes
AngloGold Ashanti Ltd. plans to sell its last South African mine, marking the exit of Anglo American Plc and the companies it spawned from the industry that created Africa's biggest economy.
Anglo's creation in 1917 by Ernest Oppenheimer and the subsequent development of what was for decades the world's biggest gold industry underpinned the development of South Africa into the continent's preeminent economy. Its retreat from the industry, which has become expensive and dangerous as mines extended miles underground, began in 1998 when Anglo merged its separate gold subsidiaries to create AngloGold Ltd.
AngloGold announced on Thursday that it's in the early stages of a sales process for Mponeng, the world's deepest mine and its last underground operation in South Africa. The sale would be the final step in AngloGold's withdrawal from South Africa after it sold and shut other mines in the country to stem losses.
"From a financial point of view it doesn't make any difference, our gold industry has fallen," said David Shapiro, deputy chairman of Sasfin Securities, who has been trading stocks in South Africa since 1972. "It's rather sad. I still have fond memories of South Africa as the resource capital of the world."
AngloGold accelerated its expansion outside South Africa in 2004 when it acquired Ghana's Ashanti Goldfields Ltd. and today operates mines on four continents. The South African gold industry, by contrast, is less than a fifth of the size it was at its peak and its importance to the economy is rapidly diminishing. It employs just over 100,000 people and with most of the nation's gold operations unprofitable, more job cuts are inevitable.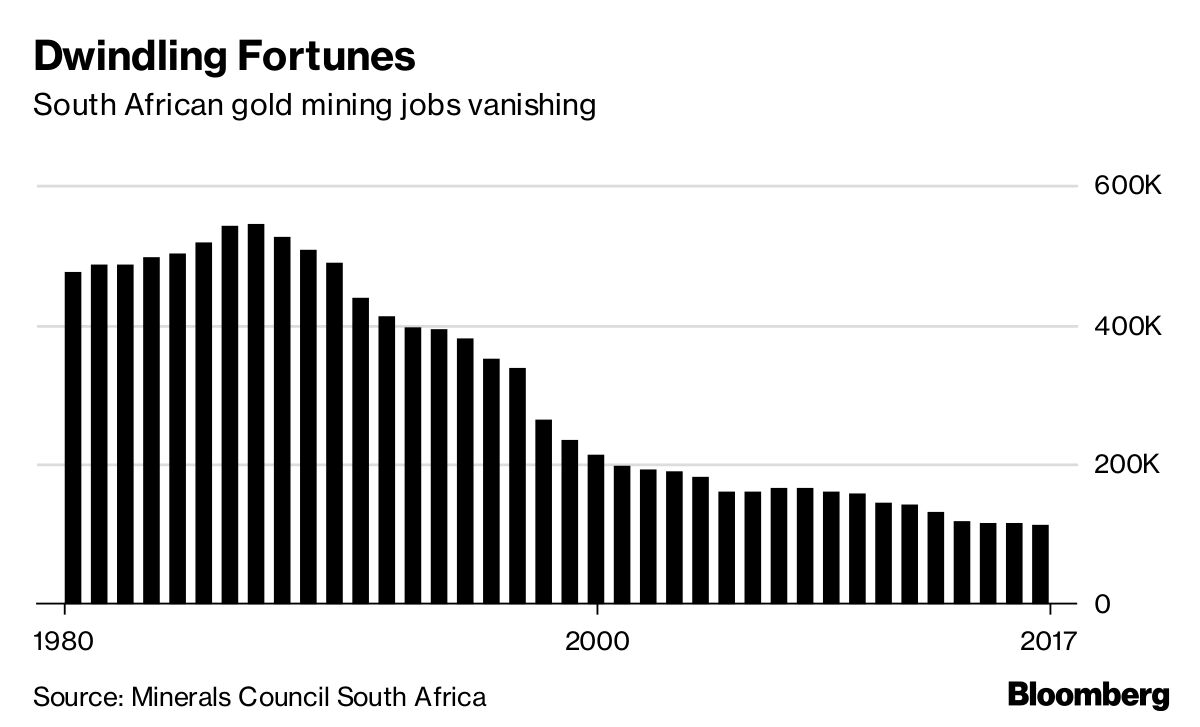 Keeping Mponeng would require AngloGold to invest about $1 billion to extend the mine's life beyond its current eight years, JPMorgan Chase & Co. said in April. The company's gold output in South Africa dropped to 487,000 ounces last year, from 903,000 ounces in 2017.
"Anglo made the South African gold industry," said Peter Major, a mining analyst at Mergence Capital Solutions. "Nobody brought the professionalism that Anglo did, nobody will ever spend money like Anglo did; they brought more money into this country than any other investor. It's sad."
While there would be challenges in getting the backing of the nation's government and labor unions, the sale would improve the company's valuation to investors, said James Bell, a mining analyst at RBC Capital Markets.
"This has its challenges but could be taken positively," said Bell. "A divestment could help narrow the 'South Africa discount' vs. global gold peers."
Investor valuation
Larger rivals Newmont Goldcorp Corp. and Barrick Gold Corp. have widened the output gap over AngloGold through mega deals in the past six months. Moreover, they also enjoy higher investor valuations, with forward price earnings ratios of 23 and 29.7, respectively, compared with 12.4 for AngloGold.
AngloGold shares gained as much as 3.3 percent, and were 0.3 percent higher as of 1:01 p.m. in Johannesburg.
Selling the South African assets would allow AngloGold to focus on projects with higher returns, but there's no deadline for completing a deal, Chief Executive Officer Kelvin Dushnisky said on a call after the announcement. He'll consider buyers with financial and technical expertise in South Africa, and has already held talks with the government and union representatives.
Under the right conditions, Sibanye Gold Ltd. would be interested in doing a deal with Anglogold, said CEO Neal Froneman. South Africa's gold industry has a maximum lifespan of 20 years, he said.
Dushnisky is refocusing AngloGold on longer-life and lower-cost operations, and since taking over in September he has announced plans to sell mines in Argentina and Mali.
"Other options in the portfolio present a higher return, which is why we focusing on those and we decided to consider divestment options," the CEO said on the call.
Exiting its South African operations could be a precursor to AngloGold moving its primary listing to London or Toronto, people familiar with the matter said last year. Dushnisky said today the company plans to remain on the Johannesburg Stock Exchange, but there's still an option to move the primary listing elsewhere.
Money raised from asset sales will be used to cut debt, raise spending on operations and pay dividends, Dushnisky said in an interview. Beyond the sale of the three mines currently underway, AngloGold isn't planning any further divestments in the near term, he said.
(By Felix Njini and Antony Sguazzin)